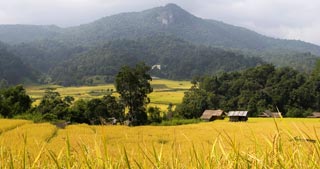 Doi Inthanon NP
Moritz Schmaltz
If you are planning to visit the north of Thailand, we suggest that it may be remiss of you if you didn't at least pay a brief visit to the "Roof of Thailand." Doi Inthanon is part of the Himalayan Mountain Range and is Thailand's highest mountain at 2585m (8815ft) - dedicated to King Inthanon who has his ashes buried on the peak. It's pretty chilly up here, with average daily temperatures of 10°-12°C it's somewhere in Thailand you need to bring some warm clothing for! Visiting the summit is a very popular activity throughout the year, with over 12,000 visitors here on New Year's Day alone. Often shrouded in mist, the spectacular views from the peak are best seen in the early morning at sunrise. Winding Highway 1009 runs for many kilometres through the National Park, and there are many turn-offs to the various attractions within the park along it, identified by the Km road markers. The mountaintop is located at Km 48 at the end of Highway 1009. But Doi Inthanon National Park is not just about Thailand's tallest mountain. The park covers an area of 482 sq km (186 sq miles) and within its borders; it contains Karen and Meo Hmong villages of over 4,500 people, many notable waterfalls (see highlights), and a varied climate with several diverse ecosystems. The park is also a riot of wild flowers and blossoms - especially the pink Sakura flowers covering trees during late January and February. The moist and dense evergreen cloud forest is made up of dry evergreen, pine, teak and dipterocarp (tall hardwood) forests and there are vast areas of sphagnum bog (moss peat). For the bird watchers, there are 362 species of birds, and for animal lovers, there are still 65 different species of animals to be found (of which half are bats), including wild boars, Gibbons and deer. As if this isn't enough, there are also two picturesque Chedis at Km 41.5 which were built in 1992 to commemorate the fifth cycle birthdays (60 years) of King Bhumibol and Queen Sirikit (the current King and Queen), which sit atop nearby twin peaks. Inside the pagodas are Buddha relics and beautiful Buddha Images. From the outside, there are some spectacular views and beautiful gardens. Nature trails For the nature lovers amongst you, there are a number of nature trails in the park. One of the most popular is the Kaew Mae Pan Nature Trail which starts a little north of the two chedis dedicated to the King and Queen at km 41.5. The trail is quite well maintained and the 2.5km circular walk is a moderately easy trek - part of it along the mountain ridge with breathtaking views to the west. Guides are compulsory at 200B per guide, and you will find them waiting for work at the trailhead on the main road. This trail can get very busy with tour groups. There is another short nature trail which starts opposite the ranger station on the main road leading to a sphagnum bog, which is an excellent location for birdwatching. Hill Tribe Culture Two villages that are worth visit are Ban Mae Ab Nai Karen Village and Khun Ya Noi Hmong Village. These visits are probably best arranged through organised tours from Chiang Mai. The Headquarters and Visitors Centre Located at Km 30.8, close to the Hmong Meo tribe village of Ban Khun Klang. Facilities include an ATM and a nearby market with a few eating places. Here you can obtain maps, further details about treks and other activities in the park and also book accommodation, although this is best done in advance. Check out our 'Visiting Options' highlight for further info on ways to visit and a potential itinerary and also the 'Doi Inthanon Waterfalls' highlight. Entry: 300B (adults) 150B (children) Car park, 30B Open: 6:00am - 6:00pm. Tel: : +66 53355728, +66 53268550; in Bangkok, call +66 25620760 Email: inthanon_np@hotmail.com Address: Ban Luang, Chom Thong District, Chiang Mai 50160 Website: www.dnp.go.th/ Getting Here: Take route 108 towards Chomthong. At km 57 (1 km before you reach Amphur Chomthong, take a right on route 1009 (Chomthong-Doi Inthanon Road). This road goes to the summit of the mountain and the HQ is at Km 30.8.
Full detailed information available in the GOHOBO App on Android and iOS. It's everything you need!
Full detailed information available in the GOHOBO App on Android and iOS. It's everything you need!
For more information from visas to haggling, check out the country page Info section.