Boon Lott's Elephant Sanctuary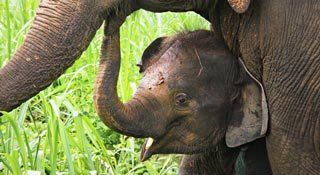 Here you have to stay at least one night (it's a 2-hour drive from Chiang Mai), and the number of visitors is severely restricted so you need to book months in advance. It is relatively expensive at 5000B per night but for those who can afford it, you will get your money's worth. You will also see that one hundred percent of all monies received are reinvested in helping the elephants. The staff here are dedicated to creating a safe and natural home for rescued and retired Thai elephants, allowing them to interact freely within 500 acres of forested land. There are no shows - no rides. You will wake up to the sounds of the elephants calling, and you can walk beside an elephant family as if you were one of them. During your stay you will share in all aspects of the elephants' lives including gathering their food, walking with them to release sites, and scrubbing them down. You will also have the chance to hike with the elephants and set up camp in the jungle. The needs of the elephants vary day by day, so there are always an endless variety of tasks. No two days are the same, and remember, the existence of the sanctuary would not be viable without your money and assistance. You will also become involved in local village life. The mahouts are all village locals who are hand-picked and carefully trained with one handler for each elephant on a 24/7 basis. They can speak a little English and enjoy mixing with guests, sharing their unique culture with you, and showing you how they care for these magnificent beasts. Meals are served near a lake, and you can listen to the founder Katherine Connor, who loves to pass on her knowledge and experience of these unique animals. This is a very hands-on experience - you will get dirty, it's in the jungle, your accommodation and facilities are basic – you will have a truly fantastic time! Most people walk away feeling like they have had a "once in a lifetime" unforgettable experience, and is well worth the money. Remember that the sanctuary gets fully booked for many months in advance. Rates: 5000B per night, includes airport pickup, 3 meals per day and all activities. You will need to book months in advance and they are in the middle of the jungle, email relays may be slow. Email: katherine@blesele.org Address: 304 Mu 5, Baan Na Ton Jan, Tambon Baan Tuek, Si Satchanalai, Sukhothai. Website: www.blesele.org Getting Here: It's around 8km from the village of Baan Tuek in Sukhothai province. The sanctuary can arrange pickup from Sukhothai airport and Uttaradit bus/train station.
For more information from visas to haggling, check out the country page Info section.