Ban Doi Pui (Hmong Village)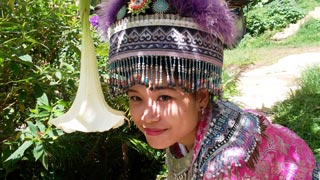 While we don't recommend that you make a special journey up the mountain just to visit this "touristy" Hill Tribe village, if you are visiting Wat Phra That Doi Suthep temple, the village is only a short drive away. Said by many as being a 'tourist trap', as the village is not exactly an accurate representation of Hill Tribe life and culture. However, it can be a pleasant and enjoyable experience if your expectations are set for what it is - a Hill Tribe village market for tourists. The village is set on a hillside with some spectacular views. When you leave the car park, you will wind your way through lovely stone alleys, and up stairways onto narrow walkways that snake in and out of the hills. They are also packed with handicraft shops and cafes. The villagers are very friendly, laid back and full of smiles, it's difficult to believe that this village has been on the tourist map for over 35 years. Most of the female vendors are not dressed in traditional attire from head to foot, but you still come across a few older women in full, genuine Hill Tribe garb. The stalls sell a wide variety of products, from silver jewellery, silk, clothes, and shoes to all manner of handicrafts. While some of the wares are just cheap bric-a-brac, if you look around, you can usually uncover some unusual and beautifully crafted bargains. The vendors are not pushy, happy to let you rummage around and will keep smiling even if you don't buy anything. This is either inherent in their natures, or they have received some clever marketing advice. You will come across a charming little hill-tribe museum which costs 10B to enter, and there are two lovely flower gardens, each with small opium poppy plots. The gardens are great places to take snaps - with or without the young ladies of the village. Entrance to either garden is another 10B. You can also try out a Hmong crossbow, and dress up in Hmong costumes for photo shoots on payment of a few baht. Getting Here: Ban Doi Pui is located 18km northeast of the Wat Doi Suthep temple (about a 17 min drive). It's only about 5km north east of Bhuping Palace and is on the red songthaew route.
For more information from visas to haggling, check out the country page Info section.