Royal Palace & Silver Pagoda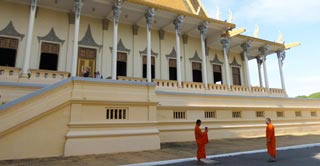 The palace and pagoda are by far Phnom Penh's most impressive sights, both situated side by side off Sothearos Boulevard. Built mainly by the French in 1866, the Royal Family moved from Oudong to make it their new residence. Phnom Penh was declared Cambodia's new capital the following year. The palace is situated in some spacious preened gardens and contains several beautiful buildings. The Throne Hall, distinguished by its 59m tower, with steps leading up to it guarded by multi-headed Naga statues on either side. Inside are two thrones and a scared gong only used by the sovereign. Just to the south of the building is a small building displaying small ornaments and dolls wearing the different coloured costumes worn by the staff each day of the week. The dolls can be the most entertaining part here. The Silver Pagoda is accessed through the southern gate and is where you can hire a tour guide if you want one. The Pagoda is a wooden temple built in 1892 by King Norodom to enshrine royal ashes and was rebuilt by Sihanouk in 1962. Italian marble steps lead you up to the main hall. The name comes from the 5000 silver blocks that make up the floor, although most of it is now carpeted for protection with an uncovered section cordoned off for viewing. In the centre is a superb 17th century Emerald Buddha statue. In front of it is a golden diamond studded (9584 of them!) 90kg Buddha, very bling! The wall is lined with murals completed by local artists (1903-1904) depicting the story of the Reamker. There are also five stupas located within the grounds, the largest of which holds the cremated remains of Norodom Sihanouk. The palace and Pagoda are well worth a visit and with a nice leisurely stroll around you'll probably be done in an hour. *TIP* Ensure you wear clothing that covers your shoulders and knees. Women should also not wear low cut tops. This is a sign of respect for Buddhist beliefs and if you do not meet policy you may have to buy one of the generic garments on-site to cover up. Entry: US$3 plus US$2/$5 camera/video camera fee. Open: Daily 7:30am - 11:00am, 2:00pm - 5:00pm. Address: On the corner of 13st and 178st.
For more information from visas to haggling, check out the country page Info section.